No ultrasound, no lease? Woman loses apartment for not providing photo
A South Florida mother of three said she is being kicked to the curb because she didn't provide a ultrasound image to her landlord while she was pregnant.
Tiesha Davis was informed that her lease at Sorrento of Miramar isn't being renewed.
"Every day I'm going looking for apartments. I can't focus on my job. I can't focus on my children," Davis, who works full time, told Local 10 News.
Sorrento is a privately owned affordable housing complex built, in part, with tax dollars.
Because of a massive affordable housing shortage, it took Davis almost a year to get into Sorrento.
Davis said shortly after moving in, she got a call from Jose Galindo, the assistant property manager.
"He said, 'We're not going to renew your lease.' And I said, 'Why?'" Davis said. "He said, 'Because of your pregnancy.'"
Davis said she was told she didn't comply with an apparent policy for pregnant women.
"He told me you had to give him an ultrasound and a letter from the doctor stating my due date," Davis said.
Fair housing advocates and Davis' attorney are calling the practice outrageous and have now filed suit.
"To ask for a photograph of the inside of a mother's womb is so intrusive, invasive, it has absolutely no business reason for being in an application for rent," said Keenya Robertson, president and CEO of Housing Opportunities Project for Excellence or HOPE.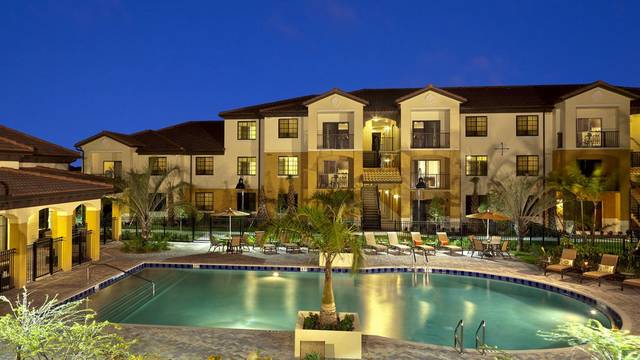 Robertson said this was a clear violation of the Fair Housing Act.
Robertson said HOPE sent testers, posing as pregnant women, into Sorrento and sister property Monterra in Cooper City.
"Our tester [was] told that an ultrasound and letter certifying pregnancy and giving a date that the child was due was a requirement," Robertson said.
In fact, a rental agent at Sorrento even wrote it on a list of requirements that was given to the undercover tester.
A federal lawsuit has been filed on behalf of Davis.
"Because they are essentially not renewing her lease, because of the fact that she didn't tell them about a pregnancy, is the reason why we're suing them," Davis' attorney, Matthew Dietz, said.
But Dietz said this isn't just about Davis.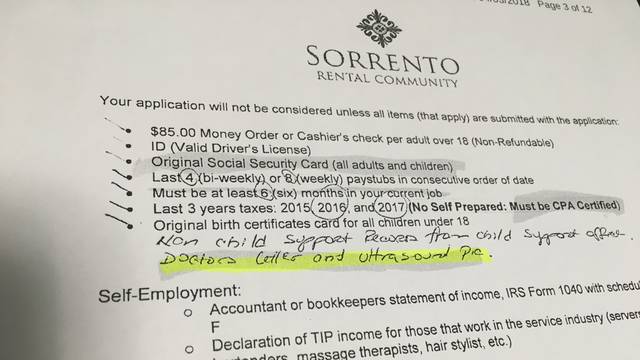 "How many people were evicted? How many people didn't get apartments? How many people have they hurt before?" Dietz added.
ZRS Management, ZOM Foxcroft as Sorrento at Miramar and ZOM Monterra as Monterra Apartments are named in the suit.
No one returned Local 10's calls and no one would talk when Local 10 News investigative reporter Jeff Weinsier went to Sorrento's office.
"You're denying housing to those people who this housing was intended to benefit," Robertson said. "You're not doing what it is you said you'd do when you took our tax dollars to make this housing available."
Local 10 has contacted the U.S. Department of Housing and Urban Development to get its reaction. Local 10 is waiting for a response.
Broward County also gave $1.5 million in tax dollars to the developers of Sorrento and Monterra for this project.
Ralph Stone, the director of Housing Finance and Community Development, said the county would do what Davis has already done and file suit to stop the practice.